RADCOM Service Assurance provides you with a smart, end-to-end monitoring solution that captures, correlates, and processes all the data and passes it up to the RADCOM Network Insights layer. RADCOM Service Assurance efficiently collects data from multiple sources and correlates it to deliver real-time insights into network performance from the RAN to the core. Using this network intelligence, operators understand the customer and service experience and identify which issues in the network need to be prioritized.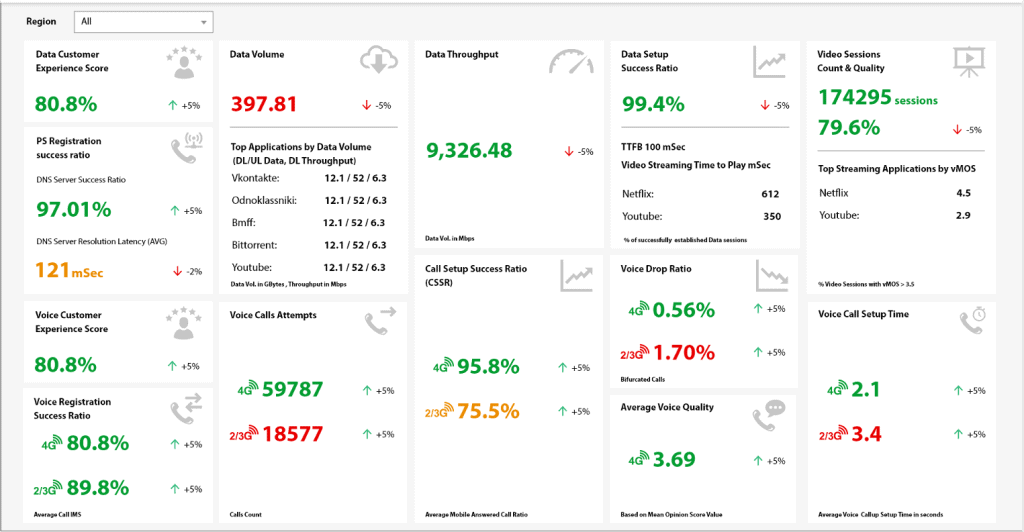 RADCOM Service Assurance enables you to gain full network visibility across multiple network domains (2G, 3G, 4G, and 5G) and cloud environments (public, private, and hybrid). Providing you with an understanding of what is happening in their network 24/7. While at the same time minimizing network operational and capital expenses, delivering low-level tools to help resolve network degradations, and offering an end-to-end view of the customer experience across all their services, assisting operators to ensure superior customer experience and optimize service quality.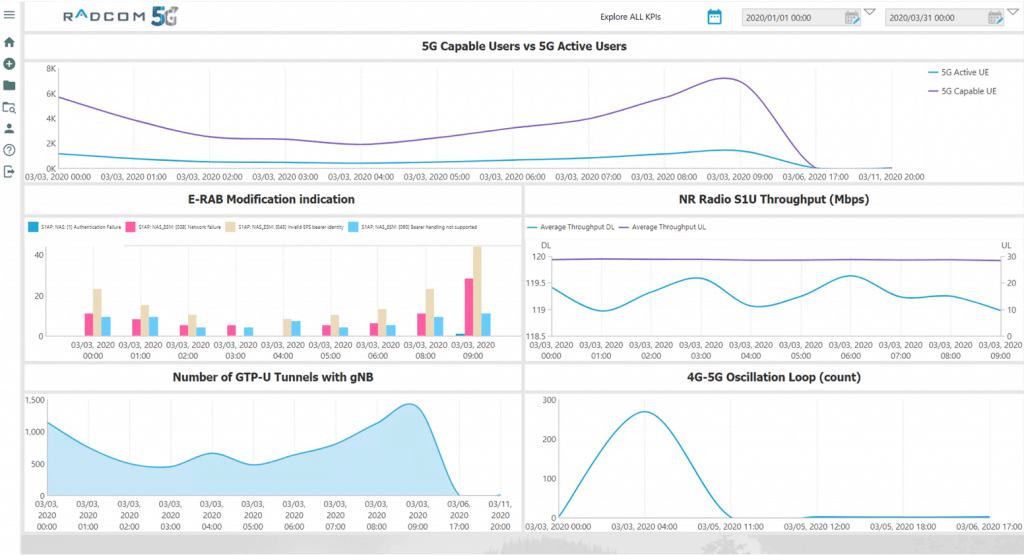 With built-in AI, machine learning, and heuristic modeling to proactively and predictively monitor and troubleshoot the network with automated root-cause analysis, anomaly detection, and insights into encrypted traffic for such services as video streaming.
Benefits:
AI-driven driven for a proactive approach to ensuring network quality
Automated with Kubernetes controlling the containerized assurance components lifecycle
Cloud-native with high real-time performance, elastic scalability, and resilience with stateless and lightweight functions
Future-proof with support for 5G SA and NSA
Real-time streaming analytics for automated real-time network intelligence streamed to your orchestration solution 
RADCOM captures data using the following methodologies:
RADCOM I.C.O.N: Probeless Assurance for 4G & 5G Networks
RADCOM I.C.O.N. is a patented, container-based, component of RADCOM ACE, which intelligently consolidates the capture, processing, indexing, correlation, and storage of multiple network event types as well as event data records (EDRs) from 4G and 5G networks. The data's output can be sent in numerous formats (such as Kafka, TCP, REST, file, email). Our solution captures data close to the source and seamlessly integrates it within your cloud environment.
RADCOM I.C.O.N. is based on an open-source Apache Flink framework and streaming architecture and its technology is comprised of interchangeable microservices that can be easily updated or swapped out. This architecture is machine learning-friendly, enabling new and updated ML models to be added to the solution seamlessly. Orchestration is managed by Kubernetes (K8s) and an Open API allows RADCOM I.C.O.N to be queried/subscribed to for feedback and actionable feedback that drives automation.
RADCOM I.C.O.N. Benefits for 5G Assurance:
Designed with the 5GC architecture – offers a unique capability to receive and digest different inputs, enabling it to provide end-to-end independent monitoring of 5GC.
Truly Real-Time Decision Making – Real-time streaming analysis with anomaly detection.
Making Closed-Loop Automation A Reality – Produces the data needed by the operator and by the network itself.
Operational Agility – Aggregations can be changed and applied on the fly with immediate results shown for a historical batch or a real-time stream.
Fault Tolerance – Independent RADCOM I.C.O.N clusters enable architecture fault resilience.
Built-in Security – Delivers correct traffic segregation with dedicated compute and storage resources, in a selected location, with ad-hoc security requirements.
Microservice Architecture with de-structured frontend and backend – ingest any data sources and, at the same time, output to any destination.
Probe-based Assurance:
RADCOM Containerized Probes (cProbes) provide a solution for packet monitoring in 5G and 4G networks.
To ensure the end-to-end customer experience and enable advanced troubleshooting capabilities from the macro to micro-level. Probe-based assurance is key to gaining real-time subscriber, and service analysis that provides an understanding of the customer experience gives insights into the end-to-end service quality and is essential for troubleshooting new services across the lifecycle of a telecom network.
RADCOMize your service assurance solution
Attain complete end-to-end network visibility across private, public, and hybrid networks
Ensure 5G transformation success by delivering network visibility from day one
Understand real-time network performance and the end-to-end customer experience
Assure your end-to-end services with the most advanced cloud-native solution in the network 
Implement best development practices such as CI/CD for integrating cloud-native assurance into your cloud environment
Future-proof your assurance solution with 5G readiness from day one