RAN Monitoring: Vital for End-To-End Assurance
RADCOM ACE, our end-to-end assurance solution, includes Radio Access Network (RAN) monitoring providing operators with complete network visibility. As an operator, it enables you to genuinely understand the root-cause of any network degradations and apply corrective actions to ensure a superior customer experience for 4G and 5G.
RAN data includes core metrics such as Packet Jitter, Packet Loss, Timeouts, Throughput, and Connection Release Cause that can all be collected and measured. As part of an end-to-end monitoring solution, these metrics, combined with data from the core, such as IMSI and IMEI data provides you with real-time subscriber analytics and customer-focused analytics.
Benefits to operators:
Real-time visibility into RAN issues to troubleshoot effectively
Helps engineers plan, optimize and deploy new greenfield RAN for 5G
Covers all RAN spectrums from low, medium (C-Band), and high band (mmWave)
Monitors RAN performance to detect the root cause of degradations
Includes important RAN data in your overall service assurance solution
Gain Complete RAN coverage: C-band to Millimeter-wave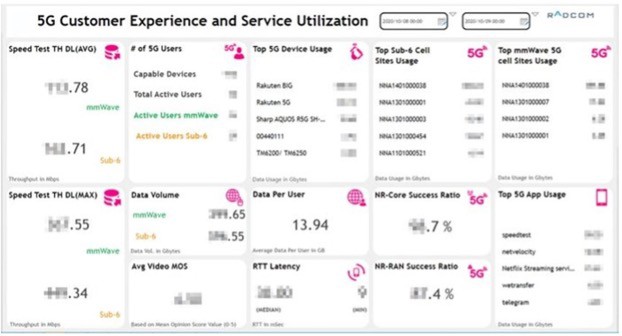 As Radio-related issues have a critical impact on the customer experience, RADCOM ACE smartly monitors Key Performance Indicators (KPIs) for the radio access network. Both the control plane and user plane are covered. As cells continue to be deployed, you can monitor the quality, coverage, and subscriber usage to see if these new cells have performance issues that need to be optimized.
Monitor and optimize mmWave performance
RADCOM ACE can help you plan the optimal position for mmWave sites and then plan the neighboring cells. Using RADCOM's solution, engineers can see each cell's different parameters, how they are performing, and handovers. You can see where devices are located in relation to the cell towers and where coverage is needed. You can also see where you have coverage holes in the current network (where there are many 5G subscribers in certain areas that are not receiving the expected service).
As in the screenshot above, RADCOM allows operators to precisely monitor specific RAN areas such as millimeter wave (mmWave) cells. RADCOM's solution helps operators ensure their mmWave deployments by continually monitoring:
Loss of service
Low throughput
The control plane and user plane.
RADCOM ACE provides visibility into this greenfield RAN technology, where new frequencies, new coverage areas, and the integration into the network are different than 4G. Ensuring that subscribers receive a consistently high customer-experience for 5G.
Built-in Artificial intelligence and Machine Learning
RADCOM ACE utilizes built-in machine learning capabilities to deliver RAN insights automatically, saving the operator time in performing root cause analysis and detecting anomalies. Some of the different AI/ML use cases for the RAN are: 
IMSI journey
Identify data hoggers
Cell outage predictions
Discover coverage holes
Ping-pong effect identification
Anomaly Detection
Automated Root Cause Analysis