Enhance Your VoLTE Quality of Experience
Voice-over-LTE (VoLTE) is the foundation for delivering next-generation voice and data services, providing scalability, cost, and operational benefits, as well as increased capacity and speed. Competing with Over-The-Top (OTT) providers, operators need to deliver on the expected high Quality of Service (QoS) and superior Quality of Experience (QoE) to build up customer loyalty.
HD voice, Wi-Fi calling, HD voice+, and integration with business-grade unified communication services will likely drive more data traffic across operators' networks, which in turn will increase customers' data usage and, subsequently, service providers' revenue. Future services are expected to be such things as augmented reality (AR) and virtual reality (VR) for teleconferences. As such, as of January 2021: VoLTE has been deployed by over 270 operators across 119 countries worldwide, with over 2.1 billion VoLTE subscribers already enjoying the benefit of these services. These numbers are projected to reach over 5 billion by the end of 2023 and 6.4 billion by the end of 2025.
End-to-end VoLTE Monitoring
While the Quality of Service (QoS) ensures that VoLTE services are delivered with telecom-grade quality, a typical VoLTE call straddles numerous network nodes, functions, and domains. From the complexity of a call set up to ensure the core network is providing the expected performance, VoLTE has multiple dependencies and failure points.

To ensure a successful VoLTE launch and avoid degraded services resulting in dissatisfied customers, operators must apply an intelligent VoLTE monitoring solution that delivers full network visibility and pinpoints issues in real-time.
Probe-Based Assurance for Advanced VoLTE Troubleshooting
RADCOM ACE is a fully cloud-native solution, selected by Tier one operators globally to ensure the quality of VoLTE deployments. With RADCOM ACE you can gain full network visibility into your VoLTE services, allowing you to pinpoint issues in real-time, rectify problems that affect service quality, and monitor the entire VOLTE call flow from the RAN to Core.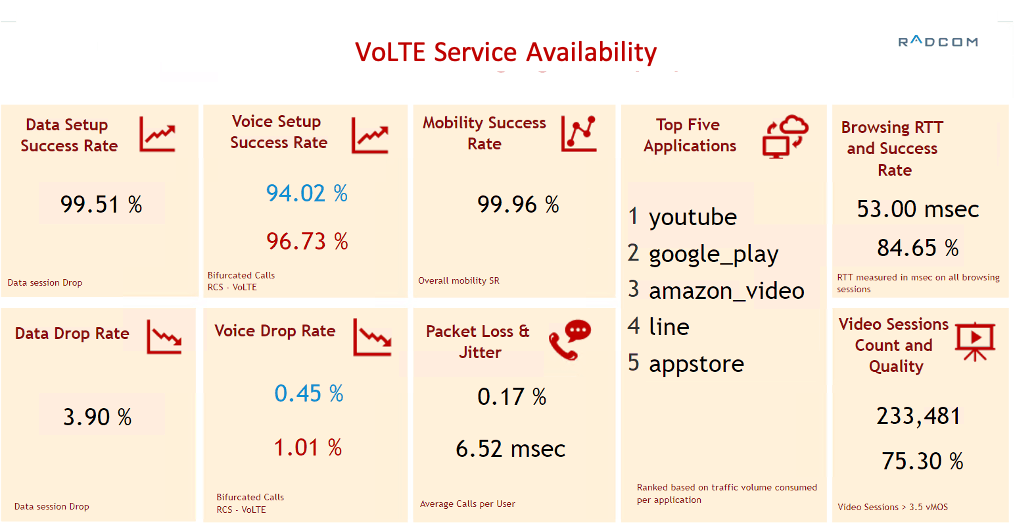 Our solution correlates end-to-end VoLTE sessions (from LTE session establishment to SIP session termination) with SIP signaling analysis and multimedia quality measurements based on RTP/RTCP protocol analysis such as perceptual MOS (PMOS), jitter, packet loss, and R-factor.
From engineering tools (online and historical call tracing, in-depth protocol analysis), up to cell analysis, and VoLTE service dashboards for Network Operations Centers, we enable you to keep a finger on the VoLTE service pulse.
Key Benefits
Correlate full VoLTE customer experience with network, device, cell, and service performance in real-time.
Cross-protocol visibility into the call to ensure all call legs including signaling, subscriber registration, identification, authentication, policy and charging, networks interconnectivity, and others, all function correctly.
Historical call records to inspect traffic disturbance events, screening by signaling information, QoS, subscriber information, legs information, and dozens of other filtering capabilities.
End-users' perceptual voice call quality – P-MOS, R-Factor, packet loss, and jitter to ensure VoLTE service customer satisfaction.
Multiple KPIs for optimizing the network performance for VoLTE such as worst performing elements, low performing functions using continuous calls and signaling analysis overtime, network-wide performance insights.
Support for advanced HD codecs such as EVS (Enhanced Voice Services) to gain visibility into the complete VoLTE service offering.
RADCOM ACE detects and classifies the different flow types within the operator's VoLTE and IMS service offerings by creating correlated sessions and using them for KPIs. With full visibility into the entire service and network performance, you can better understand areas that need to be optimized. Flow-type classification can also be used to segment flows within the network and the IMS core to provide crucial key performance indicators (KPIs) for proactive troubleshooting and network planning.