With the pace of 5G adoption (so far, it's been than 4G), 2023 will be an exciting year for operators as they extend 5G coverage to more locations and invest in their new cloud infrastructure to prepare and deploy 5G standalone. A critical cornerstone for the success of the 5G transformation will be implementing an automated assurance solution to ensure that customer experiences are high, the transition is seamless, and not disruptive while also enabling network automation so operators can adopt a more dynamic approach to network operations.
A clear picture of where the 5G landscape sits by December 2022 is provided by the GSA:
514 operators are investing in 5G worldwide
243 commercial 5G launches worldwide
112 operators investing in 5G standalone
With the continued rollout of 5G, some compelling use cases are evolving. Use cases that can provide real benefits, such as preventing power cuts with self-healing smart grids, automatic fault detection, and transforming healthcare capabilities. Additional use cases include telemedicine, remote patient monitoring, connected ambulances, or medical file transfer speeds (10 gigabits per second) crucial for the medical industry.
All these new use cases are empowered by the high speeds, ultra-low latency, and blistering performance enabled by 5G. They will only increase as more operators transition to 5G Standalone (SA) from 5G Non-Standalone (NSA), unlocking the potential of "true" 5G. However, along with the benefits come the challenges. Due to the agility of these cloud-native networks, the challenge is continually monitoring services to ensure the delivery of top-quality experiences that will boost revenue and delight customers.
Implementing an advanced automated assurance solution will be key to the success of the 5G Standalone evolution. So, what assurance trends do we expect will evolve in 2023?
Further cloud adoption
With a fully-cloud network mandatory for 5G SA, many operators are already investing in their own 5G Core. In addition, many are also embracing the public cloud. A significant example is DISH, which is building a new greenfield 5G network in the US and claims to be the first to fully embrace the public cloud, deploying on Amazon Web Services (AWS). Typically, cooperation between operators and hyperscalers like AWS, Microsoft Azure, and Google Cloud means that services are spread across several cloud infrastructures.
As more and more operators move towards a cloud-native network, more data is going onto the cloud than ever before. Although it is gradual for operators to make the switch, the transition to the cloud will grow over time.
This is where a cloud-native assurance solution that seamlessly integrates into the cloud is critical, as it smartly monitors the network functions and traffic that can change on the fly in real-time. In addition, the solution can be automated by having a cloud-native solution integrated into the cloud and orchestrated by Kubernetes (K8s). This will be a crucial advantage for operators to scale and adjust their assurance solutions in line with their cloud and service rollouts.
Having the ability to monitor what is happening in multiple clouds simultaneously is vital. Whether for a public, private, or hybrid cloud model, any assurance solution must be cloud-agnostic and support multiple cloud domains.
Monitoring the cloud environment is highly complex. With dynamic networks changing rapidly, assurance solutions must provide real-time insights. Identifying and flagging abnormal behavior in the network before it impacts service quality will be a significant advantage for operators.
Automation
With increased operational complexity comes a need for network automation. The bedrock of successful network automation is an automated assurance solution. Why? The assurance platform provides the data necessary to know what is happening inside your network, which drives automation.
In their forecast report, Automated Assurance: Worldwide Forecast 2022–2027, Analysys Mason has said, "Intelligent automation will be a key driver of spending in the assurance market to streamline operations and automate assurance processes." What is intelligent automation? The answer is AI.
Since user demands have grown exponentially, along with the vast amount of traffic and services that must be tracked, manual network operations cannot keep up. AI must become a core component of what operators require in an assurance solution. This will enable operators to automatically detect and resolve network degradations by adopting and applying AI/ML analysis to their data. Operators can then adopt an automated approach to assurance and network operations, which saves time and resources while improving service quality. By having AI boost automation capabilities, in turn, operators can then harness the capabilities of AI/ML by continuing to automate processes to keep advancing and optimizing their networks.
With customer experience monitoring becoming increasingly important, automation will be needed throughout 2023 and beyond as a crucial element to deliver the expected high standards. Other developing areas are cloud automation, network management, monitoring, ensuring an efficient data flow, reducing OPEX, and sustaining revenue per user.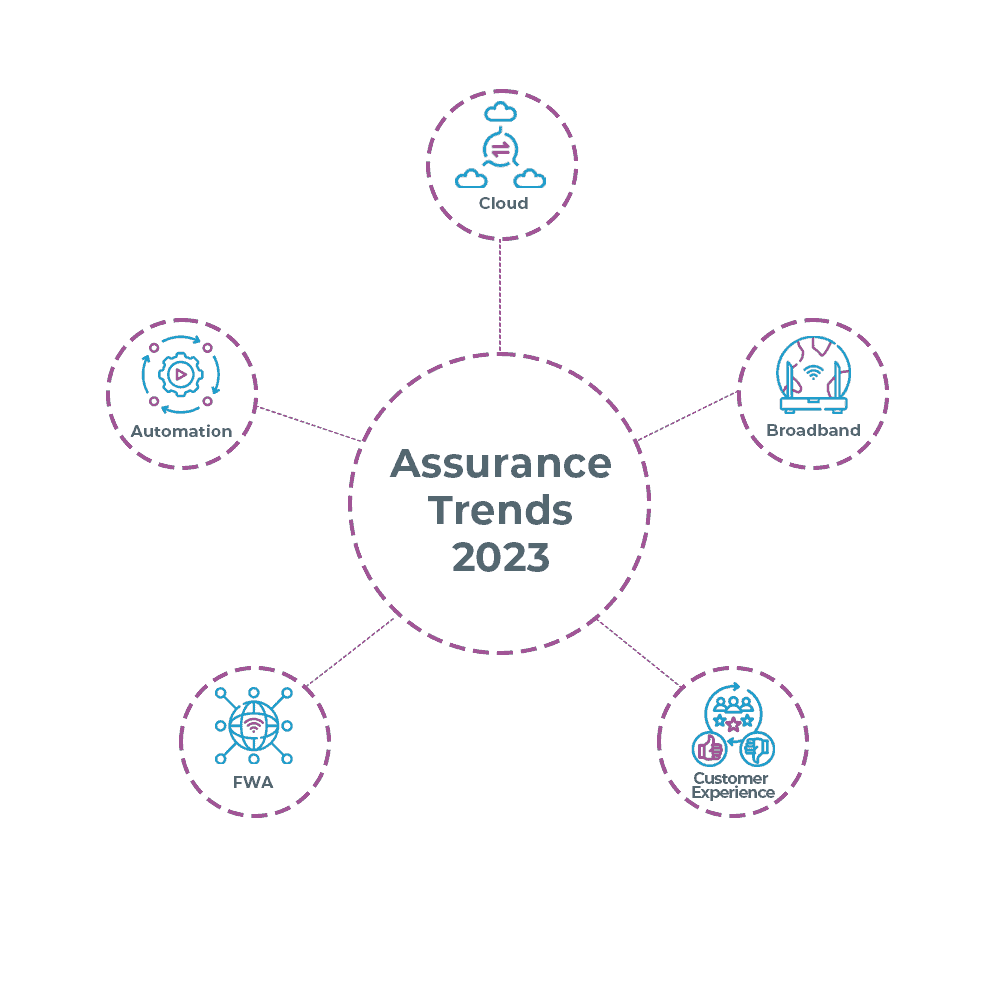 Figure 1 – Assurance trends for 2023
Fixed Wireless Access (FWA)
FWA is gaining momentum, with 5G enhancing speeds and performance to match fixed broadband. This boost in mobile technology, combined with the dramatic increase in demand for home broadband during the pandemic, has advanced the rollout of FWA in many countries worldwide and is set to continue expanding to more customers in 2023.
According to a research study by Zion Market Research, "…the demand of global 5G Fixed Wireless Access (FWA) Market size & share in…revenue was valued at USD 700 million in 2020…It is expected to surpass…USD 23,291.5 million…by 2025, growing at a compound annual growth rate (CAGR) of approximately 97.4%…"
Traditionally, home broadband was provided by fixed operators (like cable providers), and the service was guaranteed to give a certain speed and quality. However, for mobile services, that is different. Mobile services come with no guarantees and are a "best effort" proposition. With mobile operators now delivering home broadband, these operators are now expected to give a certain standard of service and speed with no downtime.
With the increased FWA activity and the apparent need to monitor quality, having an assurance solution that can provide insights, analysis, and AI/ML-based capabilities into FWA services is extremely important for operators to ensure that services are continually delivered and of good quality. This will enable mobile operators to ensure that their subscribers receive the enhanced quality services they expect instead of the "best effort" typically provided for mobile services.
Broadband For Everyone
As 5G continues to gather pace, connectivity for rural and urban areas will become more of a necessity. Operators will need to ensure that they can provide sufficient coverage to areas currently underserved, I.e., rural and hard-to-reach areas. How? By deploying FWA, more and more people and businesses can connect and enjoy high-speed broadband delivered by 5G.
Multiple wireless spectrums are also used to cover as much ground as possible, indoors and outdoors, and spread the 5G blanket as wide as possible to ensure broad coverage and fast and stable connectivity. This requires using a mix of high, mid, and low bands of the spectrum.
As well as ensuring FWA services deliver good, fast speeds to customers, automated assurance is also critical for monitoring RAN and the different spectrums. Low bands provide wide coverage and slower speeds, whereas high bands deliver blistering speeds and narrow coverage. Automated assurance helps operators find holes in radio coverage, monitor a wide range of different spectrums, and resolve RAN-related issues that contribute to over 60% of all network issues.
Customer Experience Monitoring
Customers are always looking for more personalized user experiences that are targeted, tailored, and relevant to them. Utilizing 5G and dynamic cloud networks, providing this at scale becomes possible. One of the critical elements required for such a personalized approach is automation. Imagine serving 100 million subscribers by delivering personalized experiences without AI/ML processes. This would be unmanageable and cause an increase in customer churn.
While any assurance solution needs to balance human engagement (after all, people do want to speak with people when problems arise) and automation, operators can stay a few steps ahead when providing the best customer experience possible. This is achieved by understanding what is happening inside their networks and being able to pre-empt problems and troubleshoot before serious issues occur.
Furthermore, when there are issues, it's important that the first line of support – customer care – have detailed information on what problems their customer is experiencing and how to resolve them. By integrating all the rich customer-focused data collected by assurance into customer support applications and customer care dashboards, the operator can provide informed and clear information that will significantly improve the first call to resolution.
As we have seen, for operators to embrace the world of 5G, they will need an automated assurance solution that is easy to deploy, integrates into their cloud environment, and comes with AI/ML capabilities.
With a suite of solutions in our portfolio, RADCOM provides operators with customer experience monitoring in real-time to detect abnormal behavior and proactively resolve customer experience issues by providing predictive care before they impact their business.
For more information on our products and solutions, contact us here or email us at marketing@radcom.com.
The article is subject to RADCOM's disclaimers regarding Forward-looking statements and general information under the links below:
RADCOM's Forward-looking statements disclaimer