Using RADCOM Network Intelligence operators can rapidly troubleshoot the network performance to ensure the delivery of high-quality services across mobile and fixed networks. With the introduction of new technologies such as 5G, it is critical for operators to have low-level tools in which to focus on troubleshooting the new network infrastructure and optimizing the new services.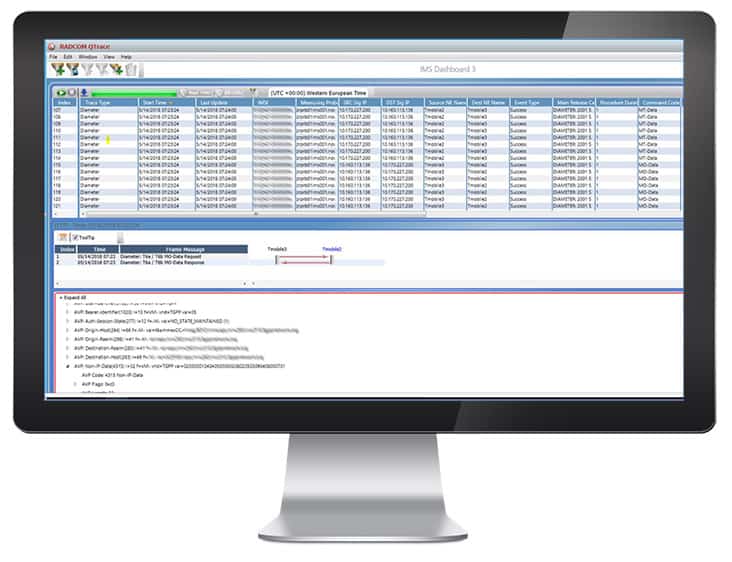 RADCOM's next-generation session tracing and packet analysis enables operators to drill down from a network and service overview to a session and packet-level in three clicks to rapidly optimize the network performance and perform root cause analysis. RADCOM's solution is web-based, and so users can access data from across the operators' entire network.

RADCOM Session Analysis is a next-generation, session-based, call tracing solution used for detailed network analysis providing an end-to-end, correlated view of subscriber and network sessions for root cause analysis and network troubleshooting. Network analysis can be performed in real-time and on historical data covering each subscriber's interactions with the network.

RADCOM provides a solution for packet-based, protocol analysis used to view any packet flowing through the network for any selected subscriber or time period and can produce a full user-plane PCAP trace that is perfect for drive testing new technology roll-outs and in-depth troubleshooting. RADCOM Packet Analysis solution is used to monitor traffic at all levels, both call/session-related and non-call/session related, as well as online or historical data, with all protocols displayed in a single view. Operators can filter protocol data separately or in combination with network element ID, transport layer parameters, protocol types, and additional filters such as IMSI, and MSISDN.
Using RADCOM Network Intelligence the operator gains real-time fault isolation and problem correlation for all services even if they cross multiple network domains (such as VoLTE) delivering;
End-to-end service optimization, and troubleshooting
Rapid execution of root cause analysis
Efficient call tracing (online and historical)
Deep and flexible protocol analysis
Proactive identification and resolution of issues