The explosion of 5G
5G technology brings a dramatic change in the communication industry.
There are two main phases of 5G, Non-Standalone (NSA) and Standalone (SA). 5G NSA uses a 5G radio while relying on the same core network that is used for 4G (with some minor updates). 5G SA introduces a new core network. Whilst 4G is NFV or hardware-based, the new Service-based Architecture (SBA) for 5G is fully containerized and cloud-native that comes with multiple benefits such as:
Efficiency and cost-effectiveness
Automated processes embedded (such as self-scaling and self-healing capabilities)
Dynamic (can launch network slices on-demand)
Today, there are at least 27 networks across eight territories1 that have fully functioning public 5G SA cloud-native core networks. The main pillars of 5G are:
Enhanced Mobile Broadband (eMBB) – Providing higher data rates and better coverage for devices that allow for video calling and virtual meetings, 5G networks will one day offer peak data rates of up to 10 Gbps. So far, Verizon 5G Home has demonstrated speeds of 600 to 800 Mbps downlink and 250 Mbps uplink in third-party testing. When it comes to data volume, the 5G standard is designed to support up to 10 TB/s/km². 
Massive Machine Type Communications (mMTC) – Supports a vast number of IoT devices in a small area, therefore, (device density), creating bandwidth capabilities that can handle millions of devices to be connected to the network at any given time. For example, 5G should be able to carry over 1000 times the number of devices per meter as 4G. That is over one million devices per square kilometer. 
This will include wearables such as watches, social networking (users having their videos and platforms work at expected speeds from the operators), smart homes, smart cities, health care monitoring, vehicle to infrastructure, and industrial automation.
Ultra-Reliable Low Latency Communications (URLLC) – which will enhance public safety, remote surgery, vehicle to pedestrian, vehicle to vehicle, and vehicle to anything communications. This requires operators to build their networks with increasingly lower latency in order to increase the reliability of communication and avoid accidents. Latency in the world of telecom is the time it takes for information or data to be sent from device A to the network and back from the network to the device. Currently, 4G has a latency of 200 milliseconds. While impressive, 5G comes in at a staggering one millisecond.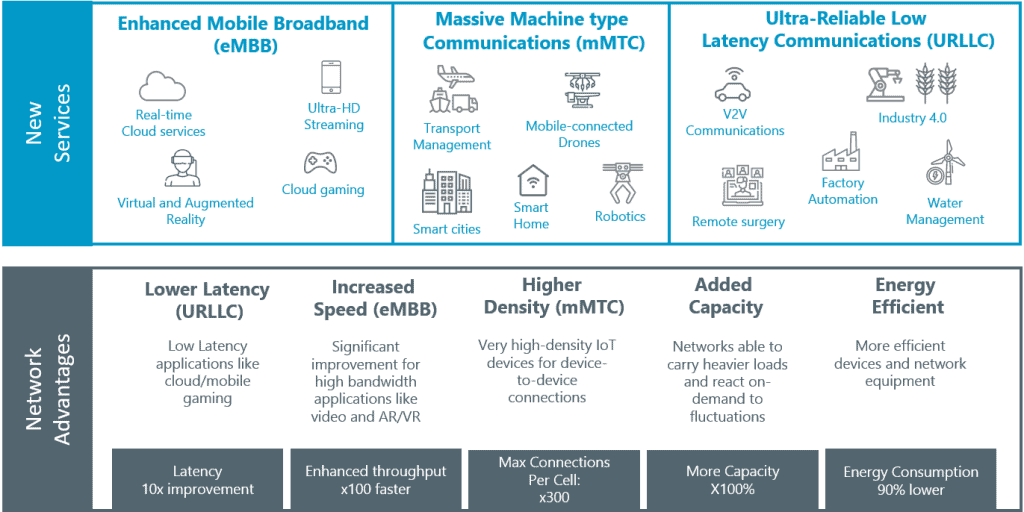 Transitioning to a cloud-native 5G core
To understand what makes the transition to a software-controlled network revolutionary, one needs to understand the core attributes that define it. Given that it is a fully cloud-native architecture, it comes with the following advantages:
Moves away from traditional telecom-style protocol interfaces to allow functions to communicate with one another and share data using a distributed web services model via RESTful based APIs via HTTP/2. This will make it simpler for an operator to add, remove, or modify network functions from a network processing path, (functional agility), and create new service-specific service paths on-demand, (service agility).
Multi-tenancy – being able to use the same computing resource for multiple tenants. This is not only more efficient but also much more cost-effective. Network slicing is such a use case, which is the logical partitioning of a physical network into independent virtual mobile networks.
Control and User Plane Separation (CUPS) – first introduced in Release 14 and developed in 3GPP, Release 15 Control and User Plane Separation (CUPS) was added to support a more flexible, distributed architecture, with both centralized and edge deployments that will be essential for 5G. This creates a more efficient network but creates challenges for monitoring the customer experience.
Scalability – Given the fact that network functions are fully virtualized, you have a near-endless scale potential in terms of how much data, storage, or memory resources you can use for your network and services. Assurance needs to be part of this cloud-native environment to scale along with the network.
Flexibility – Speed and agility are undoubtedly a massive benefit of cloud-native network infrastructure. Whether one needs to fix elements, create updates, or roll out new services, this now takes a few hours or days, as opposed to months or years.
Efficiency – Not needing to construct and maintain physical transmission networks, the cost of implementing, running, and maintaining cloud-native software is much cheaper and can be performed by leaner engineering teams.
One of the challenges of deploying the 5G network is the O-RAN. It is important to note that the RAN infrastructure is also being virtualized with Open RAN (O-RAN) development. It provides an expanded ecosystem, lower equipment costs, and improved network performance. In order to give a good balance of coverage and speed, 5G RAN will use low, mid, and high-band frequencies.
5G implementation challenges
The 5G network architecture is more complex than 4G, with more network functions, complex call flows and hundreds of different messages/packets. Initial data indicates that 5G troubleshooting is approximately 3-5 times more complicated than in legacy 4G or 3G networks. However, standalone 5G networks being cloud-native are more dynamic than purely physical networks, making it possible for multiple virtualized functions to change on the fly, which can be a challenge.

Figure 2 – 5G SA network capabilities
Other challenges surrounding the transition to 5G include: 
Gaining visibility across multiple network domains and managing services such as VoLTE and EPS fallback that transverse both 4G NFV and/or physical and 5G (cloud-native networks)
Deploying new technology, interfaces and protocols in the RAN and Core requires end-to-end visibility and advanced troubleshooting capabilities to ensure performance and service quality
Previous generations of mobile networks were purpose-built for delivering communications, data services like messaging, or mobile broadband. 5G will enable a vast diversity of services that will need to be monitored in real-time
The transition to new technology needs to be transparent to the operators' subscribers and deliver excellent customer experiences to guarantee success and build brand loyalty
Control and User Plane Separation (CUPS) as well as Edge Computing, providing operators with challenges in understanding what is happening in their network at a subscriber level and being able to troubleshoot
Many operators that are utilizing public cloud providers like Amazon, Google, and Microsoft, that need to manage multiple cloud domains
Additional levels of encryption and header compression used in 5G protocols, mean that there are challenges in gaining visibility into the customer experience and service quality
In our next edition, we will discuss a solution to some of these challenges.
Looking to learn more about transitioning from 4G to 5G? Click here to download our transition and solution brochure today.  
For any questions about how we can help you with your assurance needs or comments, contact us at marketing@radcom.com or by filling out our contact form here. 
1 5G Standalone, June 2022, GSA
The article is subject to RADCOM's disclaimers regarding Forward-looking statements and general information under the links below:
RADCOM's Forward-looking statements disclaimer