5G undoubtedly brings with it technological potential like never before. At the same time, the smart revolution, happening with connected cities and a plethora of devices and machines inside them, we have reached new levels of possibilities and challenges.
There are various forms of IoT (Internet of Things). We will look at two of them: massive IoT and critical IoT. To understand how 5G will impact both types of cellular IoT, we need to explain in which domain each one operates.
Massive IoT: 
Massive IoT is used when broad coverage is needed and in small data volumes instead of focusing on the connection's speed. For example, these devices can be located in challenging radio conditions. So, connecting anything from hundreds to billions of devices and ensuring that data is transmitted is crucial. Given that 5G allows for this level of connectivity, there must be a way to ensure that the IoT devices have available connections at a reasonable cost to handle so much data running through them. There is no point in having super-fast networks if connectivity drops and the end-user is unhappy with the service. 
Due to the need for many antennas to make sure that there are available connections, there needs to be a balance between costs and large-scale deployments while maintaining a sufficient level of service. With many devices (some mobile and some stationary) connecting to a large number of antennas, it will be a challenge to know when problems arise, where they are, and which devices or antennas are being affected. Since machines cannot tell you what is wrong, fixing or even detecting issues is challenging. In addition, with potential problems arising from exposed devices, service affected by background usage of regular devices, and following similar usage patterns between devices, this is where automated assurance solutions are critical.
Not only can such systems monitor what happens in the data flow within your networks, but they also use AI and ML to monitor IoT traffic, identify baselines and automatically detect anomalies. Specific benefits include:
Being able to handle large-scale device assurance such as monitoring and analyzing data
Simplifying the monitoring process and tracking usage patterns
Per device or service anomaly detection
Track cell level location and assist in location analysis and location-related faults
Identify changes in mass behavior
Enable group monitoring/performance with different parameters (type, service, time of day, city, device, customers, etc.)
To be proactive in identifying issues, especially in cases where there is no human user that can complain
Providing network intelligence to operators for a comprehensive IoT Service Assurance solution has never been more critical. This includes a range of capabilities that help alleviate the challenges of deploying IoT and ensure that the operators' customers receive IoT services that meet stringent SLAs (service level agreements), including assuring the service connectivity, optimizing network performance, monitoring security, and delivering automatic anomaly detection for connectivity assurance and security.
Critical IoT:
Critical IoT connections require ultra-low latency levels, high up times, reliability, and constant data-rich links. The number of telecom devices needing to be connected increases yearly. Operators must understand this type of connectivity in order to develop their infrastructure and be ready to handle the growing demand. Given the increased interest and usage of technology that requires critical IoT connectivity, 5G allows for these ultra-fast specifications but requires you to have assurance capabilities to monitor and detect anomalous behavior and patterns. 
Assurance enables quick and effective network and service performance validation by analyzing immense amounts of network-generated data. In addition, it can solve complex pattern recognition problems and identify patterns over time and across different data sources, receiving alerts if a specific KPI breach occurs.
Other benefits include:
Service assurance systems enable early detection of anomalous behavior
Assist in securing SLA
Support handling a massive number of devices, and monitoring on a large scale
Enable fast root cause analysis to identify sources for service degradation, and reduce service downtime
Self-service to middle and end customers by exposing performance metrics
Advantages of 5G for IoT
Having discussed two IoT variants, we can explore some of the critical advantages that 5G brings to the world of cellular IoT.
5G will be up to 10 times faster than the current infrastructure. This means a smoother device to internet connections and allows operators to provide a better service for enterprise customers to suit their needs, for example, operators such as Verizon and Rakuten are making significant investments in drone development, which will significantly benefit from 5G connectivity. 
Coupled with this is lower latency. Essentially, latency is the time a data packet travels from one designated point to another. It is thought that by 2030, we will have around 50 billion IoT devices. Having near real-time response rates is crucial for many industries, from those that are business-focused to those that save lives. Whether a doctor performing remote surgery via a robot using a 5G network connection to a remote location or cars/autonomous vehicles requiring high-speed communication abilities with each other and their surroundings, 5G provides the ultra-low latency to enable such use cases. 
A third advantage is that, as opposed to current capacity levels, the need for more bandwidth to accommodate the mass usage of connected devices is crucial. 5G is highly suitable to accommodate the exponential growth in devices being used.
Finally, 5G allows for a newly introduced concept, network slicing! It will enable the operator to place virtual logical networks on top of a single physical network. This provides tailored services to enterprises, as well as enhances security within networks. High levels of bandwidth are also an added advantage of having multiple slices within a network. Private networks allow for connectivity between various campuses and site locations to become possible, with more control over managing the data flow within the network. You can even combine public and private networks to get the benefits of both.

Figure 1 – Different network slices in the cloud
Massive IoT – Use Cases
The possibilities seem nearly endless when considering the practical application of 5G and IoT technology in different industries. When it comes to MIoT, whether it is intelligent street lighting, surveillance cameras, or fleet management for companies tracking their bus fleet or delivery lorries, lagging systems are not seen as acceptable in today's world. People will quickly look to other service providers with better network functionality. Additionally, using MIoT technology allows you to provide a good service balanced with cost management on a large scale. Other use cases could include water/electricity/gas meters, vending machines and pay-as-you-drive technology.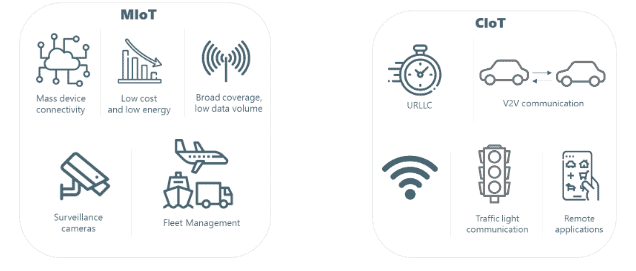 Critical IoT – Use Cases
Another usage could be telecommunication inside cars and such CIoT use cases. A clear signal and reception when on the go is essential. This also applies to internal Bluetooth connectivity. Precision is needed in all aspects of automotive technology, especially with autonomous vehicles and sensors such as Vehicle to Vehicle (V2V), Vehicle to Infrastructure (V2I), and Vehicle to Anything (V2X) communications. Having cars that can "talk" to each other via networks and sensors will come with both challenges and benefits. Traffic light communication that avoids errors in light signaling combined with automotive communication has the potential to save thousands of lives is a huge upside but being able to have enough connection points and substantial enough signals. At the same time, in motion is where 5G can enable further development. 
Summary
5G IoT technology will affect our daily lives from our cell phone connectivity, to how we operate on the road, to how life saving procedures are performed. Being able to keep up with new technologies as they come out is imperative. Having the right assurance capabilities in place will allow you to provide a superior service to your customers.
For information on how RADCOM can help provide assurance solutions for 5G IoT applications, please visit our website www.radcom.com and discover our IoT service offerings.
We would like to hear your comments, ideas, feedback, and any questions you may have. Feel free to contact us by clicking here.
The article is subject to RADCOM's disclaimers regarding Forward-looking statements and general information under the links below:
RADCOM's Forward-looking statements disclaimer