With true 5G, aka 5G standalone, starting to ramp up, operators are looking beyond simple connectivity to the use cases that will deliver innovative services to customers and generate new revenue streams. For example, in the US, operators are embracing the power of 5G to provide immersive entertainment services. NFL fans can view up to seven simultaneous camera angles and AR overlays of the NFL's Next Gen Stats on select 5G-enabled phones. In Europe, 5G enables mission-critical communications among robots and helps enhance "agritech" for intelligent farming.
So, it makes sense that beyond connectivity or "connectivity unleashed" was the theme of this year's Mobile World Congress (MWC). As we walked through the busy hallways and booths, we saw McLaren's Formula 1 Racing Simulator drawing FI fans, whereas SK Telecom's "4D Metaverse" ride drew the crowds; there were also virtual auction houses, Mars copters, K-pop, and cobots (collaborative robots) for Industry 4.0, while virtual reality (VR) and augmented reality (AR) technologies offered new virtualized experiences as multiple vendors and operators discussed the upcoming Metaverse.
We identified five critical themes at MWC 2022 that we believe will shape the telecom industry during 2022 and beyond. We also saw proof of our belief that real-time analysis through automated assurance is vital as operators strive to make their networks more intelligent, dynamic, and autonomous to deliver these new innovative services.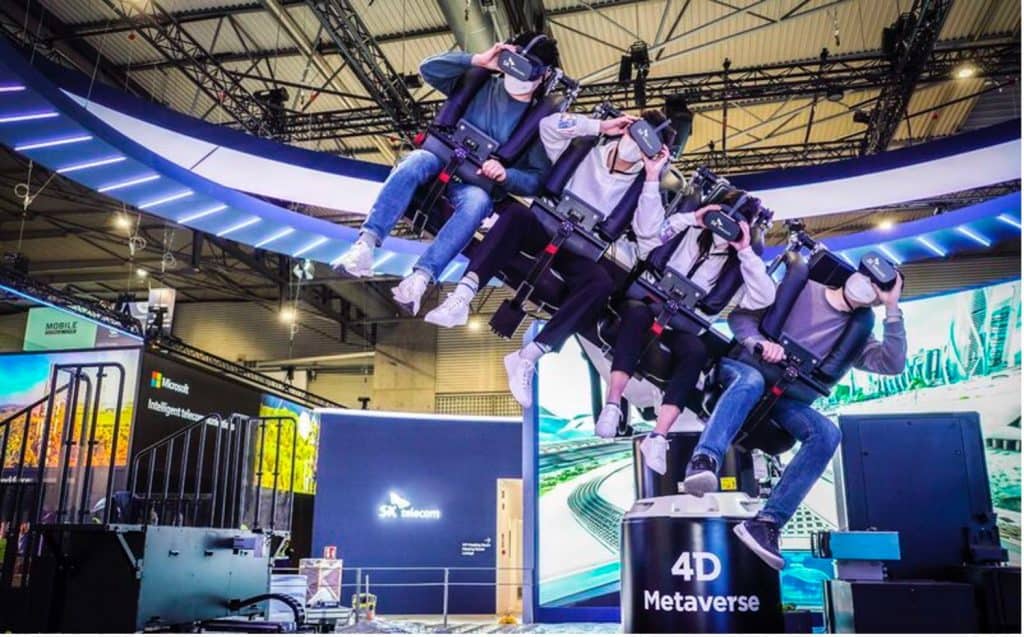 Standalone (SA) 5G
As mentioned earlier, SA 5G networks are starting to roll out. In China, all operators deploy 5G SA and T-Mobile in the USA and others. This will be a growth area over the next few years as many operators are planning their upcoming launches, so standalone was a central theme in Barcelona. Orange announced its selected SA vendors for its networks in Europe. KDDI turned on the world's first commercial 5G SA Open RAN site powered by vRAN and Deutsche Telekom demonstrated how companies from various industries benefit from their standalone network's versatile capabilities. One example was the mobile production of live video content in which the future could be bringing high-quality TV-ready broadcasts through smartphones powered by 5G.
Assurance takeaway
Deploying a cloud-native network for 5G SA is mandatory and yet a drastic shift for operators used to managing hardware-based networks. Each cloud-native network function (NF) can be created, deployed, and scaled dynamically. As a result, operators cannot rely on manual processes and traditional monitoring tools to monitor their 5G SA networks. A much more intelligent and automated approach to network operations requires automated assurance, built-in artificial intelligence, and integration into Kubernetes.
Open RAN and vRAN
With the industry leaning towards a more open and interoperable future (RAN hardware and software is a significant expense in the 5G network), Open RAN was the subject of many announcements, keynotes, and discussions on the Congress floor. Some of the debates centered around virtualized and non-virtualized Open RAN, a vital issue. Open fronthaul support is considered necessary for operators claiming Open RAN support, but it means they could avoid the need to implement full vRAN across the entire radio stack.
There was plenty more activity around Open RAN. Cisco and Rakuten Symphony signed a Memorandum of Understanding to accelerate the delivery for cloud-native, virtualized 4G/5G mobile networks based on Open Radio technology. At the same time, NTT DOCOMO announced that it has begun allowing overseas operators to access its Shared Open Lab environment, located in DOCOMO's R&D Center in Yokosuka, Japan, to verify their virtualized radio access networks (vRAN).
Assurance takeaway
Ensuring that all Open RAN components are interoperable and that the entire Open RAN network performs is not a simple task. It is also a greenfield technology that needs to be learned, and the technology needs time to mature. So, it poses new monitoring challenges for operators that will need to monitor these new cell deployments to ensure the customer experience, monitor coverage between different cells, and optimize the RAN performance.
Private 5G networks
With 5G and the transition to cloud-based networks, there is increased emphasis on developing dynamic, end-to-end private 5G networks for enterprises. Due to their inherent cloud-native design, they are significantly faster to deploy than 4G-based private networks and are an important way in which operators can monetize 5G. We saw this increased activity around private 5G networks during the event. Some of the highlights were AT&T teaming up with Microsoft to develop AT&T Private 5G Edge, HPE introducing a private 5G solution, and ZTE discussing their Private Network-as-a-Service offering.
Assurance takeaway
As an operator, capturing this market will require a different approach to managing network performance while guaranteeing contracted SLAs. As an operator, you need to integrate an automated assurance solution that runs from the RAN to the core, monitoring, analyzing, and predicting network issues to ensure end-users receive a high-quality of experience and service delivery meets promised SLAs. With a multi-tenant assurance solution, you can deploy the same solution for multiple enterprises, with each entity only having access to its data.  
Leveraging the public cloud
The public and private cloud providers were a big part of MWC 2022. Whether it was keynote speeches or a series of announcements from hyperscalers like Amazon Web Services (AWS) and Microsoft, this is not a surprise with true 5G, depending on the cloud. Traditional telecom operators are increasingly forging partnerships with these cloud giants to evolve and advance their 5G rollouts.
DISH announced last year that it would be the first operator to roll out its entire network on the public cloud using Amazon Web Services. One of the events' sessions covered DISH's cloud journey and maximizing the value of its network with the public cloud. In addition, Telefónica announced that it would become an AWS Partner for edge computing and cloud-native private 5G networks and Industry 4.0. Telefónica also extended the scope of its collaboration with Microsoft.
Assurance takeaway
Operators deploying 5G services across multi-cloud domains need to choose a cloud-agnostic assurance solution to gain real-time subscriber analytics across all services to ensure a good customer experience. Also, integration into Kubernetes, a container-based orchestration solution, will be essential to drive automation and lead to a closed-loop approach for managing network operations and end-to-end assurance.
Rakuten Symphony
With lots of new projects and partnership announcements, Rakuten Symphony made much noise at the event. Revealing an agreement to acquire cloud technology start-up, Robin.io to strengthen their complete end-to-end automated cloud offering for customers across the globe. Also, Nokia became the first Symworld partner selected by Rakuten Symphony to be the sole vendor for cloud-native mobile core products. Launching Rakuten Symphony's Symworld marketplace launch. An app store for network operations. As their Head of Intelligent Operations production strategy and technical sales stated:
"Symworld is everything you need to run a telecom network all at your fingertips – from planning and building to securing, monitoring, operating, and customer care. We are automating the full mobile services lifecycle, creating the building blocks that will eventually deliver autonomous networks."

Anshul Bhatt, Head of Intelligent Operations Production Strategy and Technical Sales, Rakuten Symphony
Assurance takeaway
As 5G advances, we see new greenfield 5G networks built in the telecom space. Established telecom operators investing in 5G or newcomers to the telecom market can create these new networks. They make a network from scratch and deploy the most advanced technology. They are, in essence, pure 5G and cloud-native from the start.
For these operators like Rakuten, automated assurance solutions are vital to monitor the network lifecycle and ensure ongoing service quality from lab to full commercial launch. RADCOM is Rakuten's service assurance vendor of choice, and we are integrated into Rakuten Symphony, providing dynamic, automated assurance from the RAN to the core.
Conclusion
MWC 2022 constantly highlighted that no matter what new technology is deployed for 5G, the key to success is the customer experience for subscribers. As a result, operators are continually striving to improve the experience for their customers. More and more, this needs to be based on proactively handling network issues and moving to smarter, more automated networks that rely on artificial intelligence, machine learning, and heuristics to gain real-time insights from the network.
RADCOM ACE utilizes cloud-agnostic technology that seamlessly integrates into multi-cloud domains (public, private, and hybrid) and platforms like Rakuten Symphony that provide real-time network intelligence to the operators' orchestration or BSS/OSS systems to detect, analyze, and resolve issues automatically.
Learn more about our automated assurance solution for 5G, and we'll see you again at MWC 2023.
The article is subject to RADCOM's disclaimers regarding Forward-looking statements and general information under the links below:
RADCOM's Forward-looking statements disclaimer